Is there anything better than waking up to a view when you are on holidays, or having to walk just a minute to find yourself at the center of the action? I say, there isn't! For perfect views of one of the most important landmarks in Rome, head to Monti, one of the nicest neighborhoods in the Italian capital, and book a room into one of the best hotels near the Colosseum.
Don't know where to start looking? Worry not! I have selected the best hotels near the Colosseum, Rome, perfect for any budget and travel needs!
Want to find out more about the Colosseum? Check out my post The Most Interesting Facts About The Colosseum.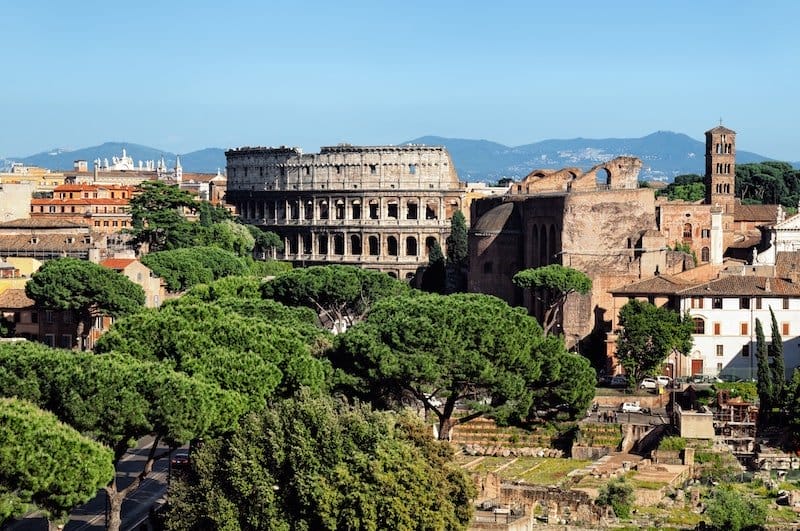 The Best Hotels Near The Colosseum, Rome
Luxury hotels near the Colosseum
If you want a hotel close to the Colosseum in Rome, then you can't get much better than this one. Situated just a stone's throw from the Colosseum (300 meters to be exact), the rooftop terrace here naturally boasts incredible views overlooking the impressive ancient structure itself. How about that for location? It's practically your next-door neighbor!
From the moment you step into Hotel Palazzo Manfredi, the staff are endlessly helpful and will assist guests with pretty much everything you need, making sure your stay runs as smoothly as possible. The rooms at the hotel have been decorated in varying styles, combining modern and traditional in an ambient, calm atmosphere.
Some rooms here even come with floor to ceiling windows, boasting incredible views of the Colosseum itself. There are also seating areas in the rooms, so you can kick back in the evening, drink in hand, overlooking the glow of the Colosseum.
Elsewhere at this hotel, guests can enjoy cocktails and snacks at the rooftop bar or meals at the polished on site restaurant.
For a slice of real old-world grandeur, look no further than Residenza Napoleone III. This hotel is set in a stunning historic property dating back to the 16th century, and it's situated on Rome's legendary Via Condotti. Nearby, there are a range of luxury shops – from Gucci to Fendi – while the Colosseum is also close by.
The hotel is actually named after its most famous resident: Emperor Napoleon III, who actually lived in this building during the 19th century. It doesn't seem as if much has changed, but it's still filled with modern luxuries. Here, guests can bask in the elegance of the property's period features, enjoy the ornate furnishings, luxuriate on large, four poster beds, and enjoy reclining on their very own private terrace with views of the Eternal City.
In terms of amenities, there's a continental breakfast served daily (in guests' rooms), and there's a large terrace where you can mingle with other guests. It's out and out antique luxury.
Villa Spalletti Trivelli is just a kilometer from the world-famous Colosseum, but that's not the only bonus of this amazing hotel's location – it's situated just 200 meters from the Quirinale Presidential Palace, and is also close to the Trevi Fountain and the Roman Forum. It makes for a great base for exploring the best sights of Rome.
The hotel itself is set in a grand early 20th-century villa looking out onto Quirinale Public Gardens. This historic residence is a spacious, elegant hotel, boasting rooms that are decorated in calming combinations of contemporary and traditional. Suites here have large seating areas and cozy fireplaces, while double rooms come with balconies overlooking the gardens.
When it comes to dining, breakfast is served daily (both Italian and American options) on the shaded garden terrace. There's also a polished bar for when you feel like an aperitif, or a post-city walk drink. For those who want to keep up with their workouts, the hotel's wellness center includes a free gym, a bio-sauna, and a Turkish bath.
Mid-range hotels near the Colosseum
Situated right in the heart of the city, this property actually overlooks the Roman Forum and is under a kilometer from the iconic Colosseum. It's fair to say that NH Collection Roma Fori Imperiali is well placed to get around some of the most famous attractions that Rome has to offer.
Rooms at this hotel are clean and modern, featuring natural wood flooring, white-washed walls, and large windows that let in plenty of light. Each spacious room has been designed with comfort and relaxation in mind – guests can relax in colorful seating areas or soak in their very own bathtubs.
Away from the guest rooms, an a la carte breakfast is served each morning, while the hotel's Oro Bistro has a menu of traditional Roman cuisine for dinnertime dishes. Then there's the rooftop and cocktail bar, the Secret View – providing, much like the name suggests, an amazing vista out over the city. Trust me, you're going to find it hard to leave!
Another of Rome's hotels taking up residence in a beautiful historic building, Grand Hotel De La Minerve is actually set inside a 17th-century mansion originally built in 1620 for the aristocratic Fonseca family. However, even more notable is that the building has actually been used as a hotel since 1700.
Guests here can enjoy all of the trappings of an aristocratic life on their trip to Rome with a choice of different rooms on offer that have been decked out in high-end furnishings, complementing the historic features of the building. Some rooms come with large private balconies too – perfect for picnicking after a day exploring the city.
Elsewhere at this hotel are a number of high-end amenities. The Minerva Roof Garden Restaurant serves up lunch and dinner with a choice of Italian, Mediterranean, and International cuisine on offer. Nearby, guests can spend some time exploring the Spanish Steps (15 minutes away), the Colosseum, and the Pantheon (100 meters away).
Boscolo Circo Massimo is set in a prime location. You'll find it just 700 meters from the Colosseum, so you can stroll to the world-famous site within minutes. Also nearby, guests staying at this hotel will find the Roman Forum (600 meters away) and the Mouth of Truth (300 meters). All these top sights – and more – are so close that you won't even have to use public transport to get around.
The hotel itself is a charming spot to stay during your trip to the city. Located down a charmingly traditional cobbled lane, the interiors of this hotel retains much of its original, historic character – it actually used to be a monastery, and some of the walls are Roman, too!
It has now been turned into the chic boutique hotel that you see today. All rooms here are spacious with eye-catching furnishings and artworks making for a fashionable place to kick back after a day of touring around Rome's top sights.
Budget hotels near the Colosseum, Rome
Right behind Rome's Fori Imperiali, in the heart of Monti, Residenza Maritti is one of the best hotels near the Colosseum, and my personal choice whenever I'm in town. This family run guest house offers three kinds of accommodation options, scattered on several floors on the same building: classic rooms, deco style and contemporary suites. I have tried the classic and the contemporary and both of them are very comfortable.
All rooms come with a private bathroom, and you will have free access to WiFi and access to a fully equipped kitchen in case you want to have a quick meal after wandering around town. Breakfast is served on the ground floor and a la carte – with lots of options to suit any taste or dietary requirement.
On the terrace you'll find a nice bar perfect for a sunset drink – you can invite people over too, in case you want to brag a bit about finding the best view in town! Indeed, the view from the terrace is absolutely stunning – I took the photos above during my last stay.
One final reason to book your stay at Residenza Maritti is the staff: from the owners to the service staff, everyone is nothing but nice and helpful!
Visiting Rome on a budget doesn't mean being priced out of the city or having to miss out on a luxury experience, and this hotel proves it. Located close to numerous top city sights, nearby you'll find not only the Colosseum, but also the Roman Forum, and the Vatican Museums too. In terms of location, Hotel Indigo Rome – St. George is a solid option.
Housed in a traditional building, with many original features retained, rooms here have been updated with contemporary fashions in mind. With a wide selection of room types to choose from, many have bold artworks, white-washed walls and large beds as well as private balconies.
The staff here work hard to make sure guests' stays run smoothly – they also serve up a delicious breakfast each morning, as well as meals out on the rooftop terrace (using local and organic produce). There's also a spa and a wellness center for when you really want to unwind.
Yet another of Rome's elegant budget options, this three-star hotel takes up residence in a 19th-century palace. The location is very convenient indeed with iconic city sights such as the Campo de' Fiori and Piazza Navona in easy striking distance, while the Colosseum is a short walk away.
The hotel's location isn't the only great thing about it. The rooms at Hotel Damaso have been decorated in trendy color palettes with parquet flooring and other period features maintained. This style continues throughout the hotel, especially in the dining room, which has maintained much of its original design – the floor-to-ceiling tiles here are simply stunning!
It's here where you can start the day with a sizeable buffet breakfast of sweet and savory dishes and plenty of Italian coffee.
There's also a terrace for guests to use, complete with panoramic views around the city, where you can really create some special memories during your trip.
Hotels for families near the Colosseum
Clean and contemporary, the Radical Hotel Roma is an amazing place to stay for you and your family. Rooms here are stylish and simple, and they have been designed with Scandinavian levels of elegant practicality and blocky colors. They're also sound-proofed, which is good news for your neighbors if you're bringing along small children (or you if you need a good night's sleep).
The rooms are spacious enough to allow you and your family to spread out and relax after a busy day and come with modern en-suite bathrooms and big bathtubs.
Staff at this three-star hotel are super friendly and will make sure that your stay is as good as it can be. The room rate also includes with it a complimentary continental or a la carte breakfast to start your day, while room service is also available for that extra convenience.
In terms of location? You'll find The Radical Hotel Roma in the Via Veneto district, close to Piazza Barberini, with the Colosseum just over a kilometer away.
Unlike other hotels in Rome, iQ Hotel Roma is a modern offering that is housed in a building that has been constructed for the specific purpose of being a hotel. Opening its doors in 2010, this contemporary accommodation option is ideal for families looking for a no-nonsense place to stay in Rome.
There is a selection of rooms here, from small doubles all the way up to quadruple rooms, meaning you and your family will have enough space to get a good night's sleep (and not get in each other's way).
Location-wise, iQ Hotel Roma is situated on the doorstep of Teatro dell'Opera di Roma with the Colosseum just over a kilometer away.
Elsewhere, the hotel comes with a string of family-friendly amenities which include laundry facilities and an outdoor terrace where children can enjoy spending time in the fresh air. Parents can make full use of the hotel's sauna and gym, and there's also a hot tub for when you really want to unwind.
Apartments near the Colosseum
If you really want to feel like you're staying in a home away from home during your trip to Rome, then this apartment could be the place for you. The apartment is a one-bedroom property, so it's a good option for couples or solo travelers to the city who don't want to be cramped in a studio.
With its pull-out bed in the lounge, however, there is also the option of sleeping up to four people at Boutique Colosseum Apartment.
Decorated in a minimalist, modern design style, the apartment boasts white tiled floors, clean, white-washed walls and contemporary furnishings. The private bathroom is stylish and polished, while there is also a small kitchen where you can rustle up a few light meals, or make a cup of tea or coffee before heading out to explore the city.
The best thing about this apartment is its location, though – it's just 300 meters from here to the Colosseum.
Choosing to stay in Domenichino Luxury Home means you'll be staying in a part of Rome's history itself. This is actually the house of pivotal painter Domenico "Domenichino" Zampieri, a Baroque artist who lived here during the 17th century.
If that wasn't cool enough, the property itself has been recently renovated with great success. The decor takes into consideration the historic features of the building – wooden floors and high, wood beamed ceilings – and pairs them with contemporary design and minimalist furnishings.
Guests will also be able to use small kitchens to keep costs low and make a few meals. Some apartments actually have more than one bedroom making this a good option for a family or a group of friends.
As for the location? The Colosseum is just 800 meters from this historic apartment in Monti.
Further Readings
Traveling to Rome? Make sure to read my other posts:
Pin It For Later!