You don't have to blow your budget for a trip to Rome. There are plenty of good cheap hotels in Rome. It's just a matter of selecting those that – while budget friendly – are still comfortable, cozy and charming. As an experienced traveler, I thought I'd cut to the chase and apply my research skills – as well as those I have for being a local – and select a bunch of good places to stay.
Go ahead and read my selection of the best cheap hotels in Rome, and find the perfect place to stay for your holiday.
18 Best Cheap Hotels In Rome
Suite Oriani
Tucked away inside a pretty townhouse in the chic Parioli district, Suite Oriani has to be one of the best cheap hotels in Rome. The building itself was first constructed in the 1920s as the home of a Texan oil baron, and once played host to the South African embassy, before finally becoming a hotel as it is today.
There are only six spacious rooms to choose from here, all of which are delicately decorated with antique furnishings and 1930s artwork.
The Corner Townhouse
Situated in the San Saba neighborhood, The Corner Townhouse provides the perfect base for exploring the Eternal City. It's one of the most charming cheap hotels in Rome, tucked away as it is inside a Liberty-era building, and boasting just a small selection of 11 boutique rooms to choose from.
The decor has been carefully curated, with parquet flooring, retro furnishings and large, modern beds. The name of the game here is definitely style!
Terrace Pantheon Relais
Terrace Pantheon Relais can be found moments away from the Pantheon – just 200 meters, in fact. Here, guests can stay in a relaxing environment, with guest rooms that boast plush, monochrome furnishings, high ceilings and other period features.
All rooms come with air-conditioning (very nice in summer!), while shared spaces include a panoramic terrace to enjoy views across the city. There's also an optional daily buffet breakfast available, providing the ideal start to the day.
Torre Argentina Relais – Residenze di Charme
Becoming one of traveler's favorite cheap hotels in Rome, Torre Argentina Relais (opening its doors in 2011) is also just a stone's throw from the Pantheon. Nearby you'll find multiple sights to see and places to eat and drink just on the doorstep – an added convenience that helps your trip run smoothly.
Being set inside a historic building, there are plenty of intriguing details, period features and charm to enjoy throughout, from the basic small double room all the way to the amazing suite with the hot tub.
iQ Hotel Roma
This modern, budget-friendly property is a sizeable, purpose-built hotel with a long list of room types and amenities for guests to use. The guest rooms at iQ Hotel Roma are airy and contemporary, with colorful artworks amid monochrome neutral color palettes, and simple yet comfortable furnishings.
Throughout this hotel, guests can enjoy various relaxing experiences, from spending time in the sauna to enjoying a drink or two at the hotel bar. Location-wise, you'll find this budget-friendly hotel near Repubblica Square and just a 15-minute walk to the Colosseum.
Hotel Artemide
Hotel Artemide may not be the most budget friendly hotel in Rome, but if you're looking for fantastic value for money then this place really delivers. Situated inside an impressive 19th-century building on the happening Via Nazionale, staying here means you'll be close to public transport, making it easy to get around Rome.
Rooms here are classically decorated, with large bathrooms and showers. It may feel luxurious, but you can get some great deals on rooms here. Guests also have access to the hotel spa, which features a plunge pool, and rooftop restaurant, among other things.
iRoom Pantheon & Navona
Set in a historic building and only with 12 rooms on offer, iRoom Pantheon & Navona feels a lot more high-end than its prices suggest. Inside its classic Roman exterior you'll discover a stripped back world of simplistic design and modern technology.
For one thing, each room has its own iPad, which controls various features of the room (lighting, etc.); you can even contact the front desk via Skype, and some rooms have their own projectors, too. Rooms could feel gimmicky to some, but others will love them. It's one of the nicest cheap hotels in Rome.
Eitch Borromini Palazzo Pamphilj
Once the 17th-century residence of Pope Innocent X, and designed by eminent architect Francesco Borromini, this gorgeous hotel has a lot going for it. There's a handful of rooms to opt for, each of which has been stylishly designed to highlight the original features of the building.
Some of the rooms boast classic frescoes and windows that open up with views out across the city. In terms of amenities, guests can enjoy drinks at the hotel bar, sun themselves on the outdoor terrace, or grab a coffee at the on-site coffeehouse.
Hotel Sole Roma
Though it could be considered slightly dated, the old-school Hotel Sole Roma still makes for an incredible base from which to explore the Italian capital, and it is one of the most budget friendly hotels in Rome. Central is definitely the theme here. And for bonus points, the hotel is actually built on the ruins of the Theatre of Pompey – the site of Julius Caesar's assassination.
While everything is so close you'll be out all the time, back at the hotel you can expect laid-back, classically decorated rooms with tiled floors and calm color palettes. Amenities include bike hire and a shared kitchen.
Hotel Della Conciliazione
Set in the characteristic district of Borgo Pio, the Hotel Della Conciliazione features 67 rooms that have all been recently renovated – and all just mere steps from the Vatican City. It offers fantastic value for money not just in terms of location, but what's on offer at the hotel itself.
Rooms are modest yet accented with vibrant colors, and the laid-back interiors let the views of Rome's skyline take center stage. Guests can enjoy spending time at the hotel's terrace, starting the day with a buffet breakfast, and ending it with a drink at the hotel bar.
Argentina Residenza Style Hotel
This little hotel is amazingly situated for those who want to see Rome's main sights without having to travel too far. There are just nine rooms on offer at this hotel, all located in a former 17th-century monastery. But despite the age of the building, there's a bold sense of minimalism going on here.
In the mornings there's a sweet and savory buffet on offer (different dietary requirements can be catered for), while there's also a bar for evening drinks and room service available. This place is well connected by public transport in case you do want to travel further afield.
Relais Le Clarisse
This historic residence in the Trastevere district is one of the most historically impressive in Rome. In fact, this place is set in a 12th-century building that once played host to the Franciscan order of Le Clarisse.
As you may imagine, rooms here are rustic, and arranged around a shaded inner courtyard (one of the building's original features); here, guests can recline in some much needed peace and quiet away from the bustling city streets.
However, nearby you'll find Trastevere's top dining and drinking scene to enjoy. On top of that, historic sites are a quick train or bus ride away.
Albergo del Senato
This 19th-century palazzo turned hotel is in an ideal location for exploring the city; for one thing, it's just a minute from here to the iconic Pantheon, while public transport to the rest of Rome is in easy reach. The hotel is packed full of charm and provides a comfortable place to stay.
Guest rooms here are modern, but accented with historic period features. All of the rooms are soundproofed, so you can get a good night's sleep, and mercifully feature air-conditioning for those hot summer nights. Other amenities include a beautiful rooftop terrace, a dining room and a bar.
HiSuiteRome
HiSuiteRome is a collection of 11 apartment-style accommodation options down a residential street, close to Piazza Navona. Here guests can choose between studios or 1 and 2 bedroom apartments, which come complete with their own kitchenettes and living areas.
The property is set in a classically Roman historic building, and each apartment is modern with a few nods to the past in some features – such as their high ceilings and large windows. Even though this is apartment accommodation, staff will be on hand to help your stay run smoothly, and can arrange tours, bike rentals, and more for guests.
Roma Luxus
Set in the Monti neighborhood, this hotel is only a 12-minute walk to the Colosseum and a short walk to the Pantheon. The hotel itself may appear to be high-end, but the 18th-century palace in which it is set does offer some fantastic value for money both in terms of guest rooms and the amenities available.
The rooms, for example, are decorated in a modern style, with color pops and monochrome – far from the building's original use (a convent). The hotel also boasts a private terrace for unwinding and, for an added extra, you can have the use of a sauna, Turkish bath and a jacuzzi.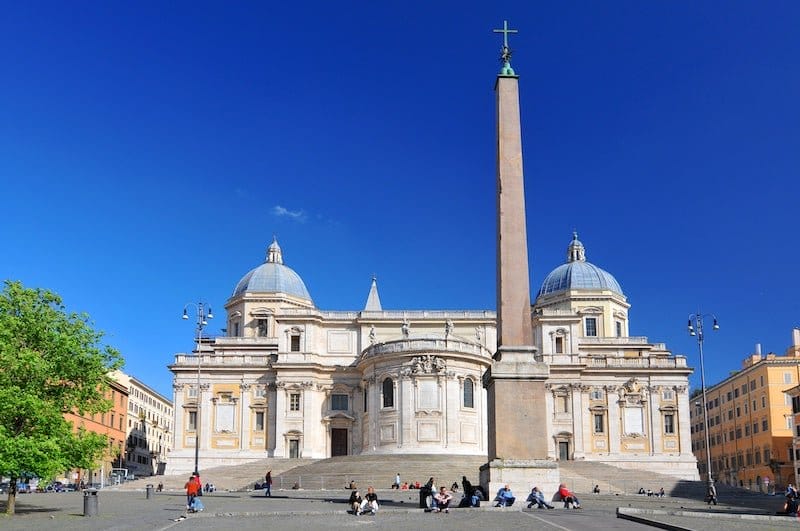 Hotel Varese
Opening its doors fairly recently (2020), this boutique hotel is located close to Termini station, which makes getting around the city (and out of it) easy. It's a modern, contemporary choice with comfortable guest rooms and a good selection of amenities on offer to help make your stay run smoothly; these include a bar and concierge service.
There are a selection of different room sizes on offer, each of which are clean and well appointed. The friendly staff will be on hand to help out with anything you may need, while there's also a delicious breakfast served up each morning – the best way to start the day. Those traveling with pooches should also note that Hotel Varese is a pet-friendly property.
Hotel Canada, BW Premier Collection
Part of the Best Western chain of hotels, this iteration takes up space inside an 1870 palazzo. The chic hotel itself can be found just a two minute stroll from the Castro Pretorio metro station, and in easy reach of the Colosseum.
Inside there is a selection of 72 rooms to choose from, each of which has been furnished with pared-back sophistication married with a traditional style. The property features various amenities including a hotel bar, a romantic terrace, and even a daily breakfast on offer for those who want it. Overall, it's a relaxing experience in a modern setting.
Free Hostels Roma
While this place may be a hostel, there's enough going for it in terms of cleanliness, amenities and the quality of the private rooms that it's worth looking at – even if you think hostels are only for backpackers. Inside this historic building, it's colorful and modern, with a grey and yellow color palette.
You'll have the option of various sleeping arrangements, from a private pod bed in a dorm room to private rooms with their own en-suite bathrooms. Being a hostel, there's a lot of social spaces to take full advantage of to get to know other travelers, or just unwind by yourself. The terrace and bar are particularly nice.
Further Readings
For more places to stay in Rome, make sure to read these posts:
Pin It For Later!