With lots of interesting archeological sites; nice squares and parks; delicious food and even better gelato, Rome is a very family friendly city.
If you are taking your children to Rome, you are probably looking for the best hotels for families in Rome and seeking accommodation where you can relax while your kids can play and have fun in a safe environment.
You will surely need a place that is located in the center of town, so that you don't have to worry about dodging public transport while you may be carrying a stroller. You will also need a bit of a larger room with enough space for the kids and all their stuff; and a place where you will find things your children may need – think a crib or a high chair.
If you don't know where to start looking for good hotels for families in Rome, you are in good hands. I have selected the best ones for you. Continue reading for the nicest family-friendly hotels in Rome – there is something for any budget!
The Best Hotels For Families In Rome
Luxury Hotels for Families in Rome
Once the headquarters for Singer Sewing Machines in Italy (from 1850), this place was converted into a boutique hotel that combines historic elements with modern design.
Ideal for families with older children, guests at Singer Palace Hotel can enjoy staying in one of its 30 rooms. There are 10 suites, seven of which can connect to each other which would be convenient for a family vacation in Rome.
The rooms themselves are fresh and bright with large beds and fashionable design creating a relaxing, luxurious atmosphere. With some rooms boasting their own terraces and seating areas, they're great spots to unwind in for when you're not out exploring the history and culture of the city.
For evening meals, you can dine in the casual rooftop restaurant which overlooks the city itself. There's also a continental buffet breakfast served up each morning to set you up for the day.
Location-wise, Singer Palace Hotel is situated right on the iconic Via del Corso shopping street with the Trevi Fountain and the Pantheon just a stone's throw from its doors.
Staying at this four-star hotel, tucked away along a side street and situated right next to Piazza Navona, means that you and your family will be situated in the center of the city while feeling secluded, too. The Pantheon and the Trevi Fountain, among other sights, are in easy walking distance.
The hotel was once a palace run by the noble Massimo family, so throughout the hotel various design details and original features have been retained. You'll find marble hallways and stately guest lounges among its communal areas.
You could opt for an interconnecting room here, or choose an entire suite for families. They're also soundproofed so you (and your neighbors) can get a good night's sleep and not be woken too early. There's also a babysitting service available.
Martis Palace Hotel Rome boasts its own rooftop terrace where you can enjoy evening meals and is also where breakfast is served each morning. There's also a library for curious kids, a bar for the adults, and a spa for some parental downtime.
The luxurious Palazzo Scanderbeg boasts a number of spacious apartments where you and your family can make a base for exploring the rest of Rome. The building itself is wonderfully historic – dating from the 15th century, the former palace actually became the residence of the Albanian hero Scanderbeg for some time in 1466.
The palace was the famed general's home centuries ago, but it has since been through many renovations and restoration, and today mixes its original style with modern Roman design. It results in comfortable luxury for families.
You can opt for either multi-room suites, which come with kitchens and living rooms and even a butler service if you so wish.
In terms of location, you'll find Palazzo Scanderbeg on a quiet backstreet close to the Trevi Fountain and Quirinal Hill, with the Pantheon around a 10-minute walk away. It's close to everything but removed just enough to allow you to avoid emerging into crowds as soon as you leave the hotel.
Mid-range Hotels for Families in Rome
This family-run hotel might be pared back, but it's beautiful – rooms come with original features like tiled flooring, the decor throughout is warm and welcoming, and the views from the roof terrace are incredible.
However, what really makes this hotel such an amazing place to stay for families are the staff who'll really welcome you and your children.
The guest rooms at this hotel are spacious, and there is a selection of different styles to choose from. Interconnecting rooms are available, and cots and extra beds can also be had for no extra charge. Each floor of the hotel has a shared seating area where you can chill out and even a kitchen for guests to use, too.
I mentioned the terrace before, but it really is lovely. It's the perfect place to get a breath of fresh air and enjoy some family meals together with the city skyline as your backdrop. As for the location, it's adjacent to the Roman Forum, a short stroll to the Colosseum and near to a metro station. It doesn't get much better!
Palazzo Montemartini Roma consists of two 1880s palaces that have been combined to create a large hotel that's ideal for families in Rome. Part of the Radisson chain of hotels, this large accommodation offering boasts 82 rooms and suites.
This Roman hotel has been decorated throughout in a mix of contemporary design and historic authenticity. For families, you can opt for a private, two-storey apartment if you really want to splash out – it even comes with its own panoramic rooftop terrace. Alternatively, you could choose a suite.
Extra beds and cots are available, and all the rooms are mercifully soundproofed, too, meaning that you won't disturb your neighbors too much if you're coming with young energetic children!
The hotel's on-site restaurant is a great place to enjoy Italian specialties, and is where a sweet and savory breakfast is served daily. There's also a garden for when you want to get a breath of fresh air.
Located in the Monti neighborhood, Hotel Grifo is a three-star offering that's close to a number of top Rome sights – it's a 10-minute walk to the Trevi Fountain, while the Colosseum is also in walking distance, and the Cavour Metro Station is just 100 meters from the front door. This ease of getting around makes having this hotel as your base a good option for families.
Hotel Grifo is actually situated inside a 17th-century building with a modern annex providing contemporary self-catering apartments. So as a family, you can choose your room type depending on your requirements.
All of the rooms here come with soundproofing, with tiled floors, classic decor and contemporary furnishings. Some even have their own terraces and city views, too.
In terms of amenities, there's a complimentary continental breakfast served up each morning. There's also a 24-hour reception where staff will be on hand around the clock to offer any tips or advice should you need it.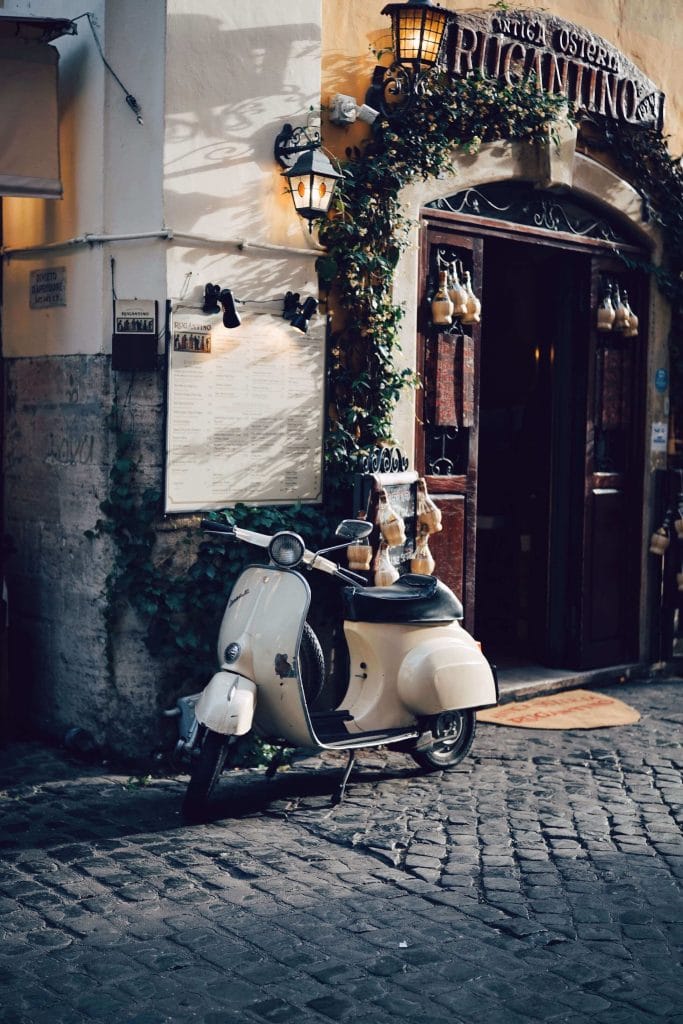 Budget friendly hotels for Families in Rome
It's very possible to travel on a budget with your family whilst in Rome, and it all starts with finding the right hotel. Suites Trastevere provides a good place to stay for families looking to stick to a budget. Here you'll be greeted by a homely atmosphere, with friendly and attentive staff to welcome you, with room rates that are great value for money.
This three-star bed-and-breakfast features simple rooms that have been decorated with modern design in mind. These bright, spacious suites feature eye-catching and fun Roman-inspired murals, and modern en-suite bathrooms, too. Rooms also feature everything you'll need for a convenient stay, including refrigerators, hairdryers, desks, sockets near the beds and flat-screen TVs.
Perhaps most conveniently of all, however, is the fact that rooms come with a phone and Italian sim card so you can explore the city while using the internet freely.
In terms of location, you'll find B&B Suites Trastevere just five minutes' walk from Trastevere Train Station (which is easily accessed from the airport). Plus, you'll also have tram and bus stops 50 meters away, so you can hop on and explore places like the Pantheon and Piazza Navona with ease.
Traditional and stylish is the name of the game at Hotel Stendhal. Here you'll find well designed, carefully curated rooms that though stylish also feel homely, making for a relaxing place to stay during your family's vacation.
There is a selection of room sizes on offer, each are painted in calm hues of creams and teals and decked out with a mix of modern and classic furnishings. Each have chaise-lounges, large, comfortable beds and well-appointed bathrooms.
With its subdued boutique feeling, this may be another option in Rome for families with older children. Still, there is the option to go for fold-out beds as an addition to the rooms. For adults who want a little more privacy, interconnecting rooms are available, too.
Elsewhere in this four-star hotel, guests will find a lounge and a library where you can spend time unwinding or leafing through the guidebook before heading out into the city. A complimentary, continental-style breakfast is included in the room rate, so you can all fill up before a day of sightseeing.
Speaking of which, nearby you'll find Piazza Barberini (it's practically on the doorstep), the Trevi Fountain and the Spanish Steps (both are around half a kilometer away).
Hotel Stendhal offers up excellent value for money. It provides guests with bright and spacious rooms to stay in, all of which are lean and well maintained. Each room combines historic features – such as hardwood parquet flooring or tiled floors, white washed-walls and high ceilings – with modern decor for an updated yet classic aesthetic. They also come with en-suite bathrooms, too.
Extra members of your family can be accommodated with additional beds, so your family can all stay in one room. There are also added amenities such as Netflix on the TV, free Wi-Fi, a refrigerator and kettle for tea and coffee.
The hotel is actually situated in a building that dates from the 19th century, so you can enjoy staying in a beautiful slice of Rome's history for budget prices. For when you want to explore Rome, the location is great – it's situated on a quiet street close to Termini Station (so getting around is a breeze) with restaurants close by, too.
Part of the Best Western hotel franchise, the four-star Best Western Plus Hotel Spring House is a truly value-for-money place to stay for families in Rome. You'll find this option located minutes from the Vatican Museums, while there are also plenty of restaurants and cafes in close proximity, so you'll never be too far from a bite to eat.
Inside, the hotel is a large, modern building that has been purposely designed with comfort and relaxation in mind. While it may not have the history of some other Rome hotels, rooms here are contemporary and unfussy and come with handy amenities such as additional beds and large TVs to keep children who wake up too early entertained.
The friendly staff at Best Western Plus Hotel Spring House provide a professional, helpful service. There's also a complimentary buffet breakfast on offer every morning, while there's also a bar-cafe that serves snacks and drinks throughout the day in case you arrive back at the hotel hungry after a day of exploring.
Vacation apartment for Families in Rome
If you're traveling to Rome with your family and you want somewhere to stay that's a little more private and which has plenty of space for you and your children, then Borgo Pio 51 Apartment Vatican is a great option.
Situated in Rome's Borgo district, the Vatican is just around the corner from this accommodation option with public transport nearby, too. This two-bedroom apartment comes with a kitchenette, a modern bathroom, seating and dining area, and is run by a friendly host who'll greet you and help you with anything you may need during your stay.
This is a bright and airy apartment that's perfect for a small family to enjoy their very own Roman getaway. With two bedrooms, a well-equipped kitchen and laundry facilities, there's enough room for up to five people to sleep at Be Home Rome.
Location-wise, this apartment is a short distance from Santa Maria Maggiore, the Rome Opera House, and the Colosseum with a number of cafes and restaurants on the doorstep, too. For those who like exploring further afield, there are a couple of metro stops nearby.
For children there are things like highchairs and strollers and babysitting services offered by the host as well.
Further Readings
Traveling to Rome? Make sure to read my other posts:
Pin It For Later!