Are you traveling to Rome on a budget and looking for the best hostels in Rome? Great news! There are many options for accommodation in Rome that are budget friendly, and even if you are traveling to Rome on a shoestring you will find something suitable, comfortable and stylish without having to break the bank.
With so many places available, you may feel overwhelmed when looking for a place to stay. Don't worry though! I have selected the best hostels in Rome for you, so the only thing left to do is book your room or dorm and pack your bags.
The Best Hostels In Rome
The RomeHello
Known to be one of the best hostels in Rome, this modern, bright and colorful hostel is the perfect mix of social and affordable for your Roman holiday. Situated close to public transport, from here it's just half a mile to the Trevi Fountain and two kilometers from the Colosseum, making sightseeing a breeze.
The building itself is historic, but has been lovingly updated with modern interiors and stylish shared spaces for hanging out. There are a range of amenities for guests to enjoy, including a leafy courtyard garden and a cafe-dining area.
An optional buffet breakfast is served up each morning, with helpful staff also on hand with advice and tips on what to see and where to go in Rome.
Free Hostels Roma
Tucked away down a quiet residential street, this is the perfect hostel for those who want a mix of local life and tourist sightseeing. Free Hostels Roma put themselves out there as a boutique hostel, so you'll have high-end amenities and comfortable spaces to relax in during your downtime (when you're not exploring the city).
The hostel building is an ornate, historic structure, but the interiors have been boldly modernized, with an eye-catching yellow and gold color palette throughout. Guests have the option to choose from a long list of room types, which include dormitories, family rooms and budget private rooms.
In terms of location, you'll find this excellent Rome hostel just a five minute walk from Manzoni metro station, making it easy to get around the city quickly. Then again, it's also just a 20-minute stroll to top sights such as the Colosseum and the Trevi Fountain.
Ostello Bello Roma Colosseo
This charming hostel has a lot going for it. For one thing, its incredible rooftop terrace is enough to win anybody over. Boasting views out over the city and overflowing with plants, it's an ideal spot for kicking back after a busy day of sightseeing.
The hostel has a great vibe throughout, making it a very pleasant place to stay indeed.
Rooms here are smart, and come decked out with polished wooden floors and comfortable double beds. There are a range of different options here too, from family rooms and rooms for solo female travelers, as well as dormitories. Amenities include a bar for socializing, a shared lounge and a communal kitchen.
The Beehive
This Rome hostel is located just half an hour from the University of Rome (aka La Sapienza), which puts you within walking distance of not only several top sights, but also a whole host of bars and restaurants.
From here you can easily walk to the Piazza della Repubblica, Piazza di Spagna, and Piazza Navona. Rome Termini Station is also just a stone's throw from this hostel.
At The Beehive itself guests can enjoy a restful night's sleep either in a clean and comfortable dorm room, or in a bright, homely private room. To start your day the right way, be sure to choose the buffet breakfast.
In terms of amenities at the hostel, staying here means you'll have access to a communal kitchen and lounge, as well as a bohemian style garden, overhung with vines and greenery.
Hostel Trastevere
When it comes to modern hostels in Rome, Hostel Trastevere is where it's at. The interiors of this property have been stylishly decorated in contemporary furnishings: think monochrome bedrooms accented with colorful wall art, and minimalist style shared bathrooms. Everything is super clean and super modern here.
They understand that hostels are all about socializing here – just take a look at the large guest lounge, with its foosball table and comfy sofas. There's also a colorful garden terrace with a nice, relaxing atmosphere.
The location is also very convenient, with access to Trastevere Station just 700 yards away. But best of all you'll have the lively district of Trastevere just on your doorstep if you stay here.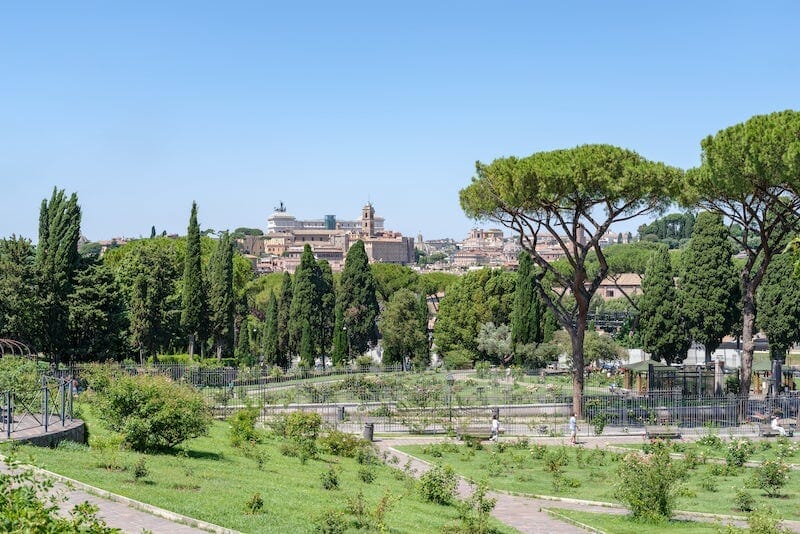 Youth Station Hostel
For more of a down to earth, unfussy option – the kind of place that's just safe and clean, and moreover, affordable – you couldn't get a place more suited to budget travel than Youth Station Hostel.
It may be a little basic, but the dorms are tidy and well maintained, while the private rooms boast large beds and their own private bathrooms.
Despite the budget credentials, Youth Station Hostel remains one of the best hostels in Rome and feels like a welcoming place to stay, complete with professional staff who'll be more than happy to help you during your trip.
There are also the amenities, which include a shared kitchen where you can whip up your own meals to keep costs even lower.
Location-wise, staying here means you'll be just steps from Bologna metro station, with a number of cafes and restaurants to sample in the local area and easy access to more central areas of the city.
New Generation Hostel Rome Center
This fashionable hostel offers a long list of cool credentials for discerning travelers on a budget. Tucked away down a cobbled street, just a 10 minute walk from both the Colosseum and Termini Station, you can easily travel all over the city from this hostel's central location.
And the bonus is that it's located inside a charming, historic building, which still boasts many of its timeworn period features, including brick walls and high wood-beamed ceilings. Dormitories feature custom-built bunk beds, while the private rooms are so polished that they could easily pass for boutique hotel rooms.
One of the best things about this property, however, is its romantic courtyard garden. It's scattered with tables, where guests can chat over candlelight in the evening, or sun themselves over pastries and coffee at breakfast time.
Generator Rome
This hostel is part of the wider network of Generator hostels scattered throughout Europe, all of which are well traveled and much loved by a seemingly endless list of previous guests. The Rome iteration is no different and this is indeed one of the best hostels in Rome.
It features an array of funky social spaces to hang out, all set over seven floors of a 19th-century building.
Staying at Generator Rome offers up the chance for you to unwind in the effortlessly cool hostel bar, spend some time reading in the homely guest lounge, or catch up with new friends on the sunny roof terrace.
The location is equally great: it puts you just a 10 minute walk from Rome Termini Station, as well as top sights including the Colosseum and the Roman Forum.
Roman Holidays
Taking its name from the 1953 film starring Audrey Hepburn and Gregory Peck, like the classic movie this is a classic hostel. It may not be as modern or high-end as other best hostels in Rome, but it's the sort of place that has a lot of character, and you'll soon feel at home staying here.
You'll find this hostel in the San Lorenzo district, with a number of bars and restaurants nearby. But there's also super easy access to public transport just meters from the doorstep.
Rooms here are vintage in style, with tiled floors and large windows, but bathrooms are modern and contemporary (and clean). There are also different room options to suit different budgets and travel types, from a budget single room to a large family room.
Des Artistes Budget Rooms
All of the rooms at this Rome hostel are decorated in a smart, classic style. They feature terracotta tiled floors, dark wood beds and large windows that look out across the rooftops of the city. Amenities here include a relaxing courtyard garden – perfect for summer evenings.
One of the best things about this property is that there aren't any bunk beds. Instead, rooms feature single beds, which means maximum comfort (not having to share a bunk with anyone is a big plus).
The location of this hostel is fantastic for exploring the city. There's a metro station just a two-minute walk away, while the University of Rome – and top sights like the Trevi Fountain – are moments away on foot.
Roma Scout Center
Don't be put off by the name of this hostel: it's actually fairly modern and has been recently decorated. Throughout, it boasts bright colors and made-to-measure furnishings, with no dark and dingy corners, or squeaky, uncomfortable beds to worry about. Not only that, but rooms here are clean and comfortable (as are the shared bathrooms).
There's also a selection of amenities to enjoy at this hostel, from an optional buffet breakfast each morning, to an onsite restaurant and bar area.
And as for the location, you'll find Roma Scout Center near Bologna metro station, while Tiburtina Station for day trips and onward travel is just 500 meters away. Bars and restaurants dot the local area, too, making it extra fun to explore.
YellowSquare Rome
If you're in Rome and you want to stay at a hostel for the social side of things, then YellowSquare Rome could very well be the choice for you. This lively youth hostel isn't just a place to sleep: it also comes with its very own happening bar that plays host to events such as live music and themed parties. There's also an outdoor lounge and patio for those quieter summer evenings.
Events such as bar crawls, among other things, make this a great place to stay for solo travelers who want to meet and mingle with fellow backpackers.
But when it is time for sleeping, guests can relax in comfort, thanks to the hostel's large, comfortable beds and sizable rooms. Dormitories boast customized beds and secure lockers to keep your belongings safe; the shared bathrooms are high-end and spotlessly clean, too.
The Bricks Rome
Gone are the days when staying in a hostel means messy dorm rooms and grubby interior design. The Bricks Rome is all about elegance and style – on a budget.
The rooms here are accordingly boutique in flavor, with luxe wallpapers, large beds and balconies from where you can gaze out over the city. But it doesn't stop there.
Throughout, the hostel is dotted with stylish shared spaces, from the sunny rooftop garden, to the chic inner courtyard. There's also a shared lounge and kitchen to make use of too.
Then there's the location, which is excellent for exploring. The Vatican is less than a mile away, while other sights – Castel Sant'Angelo and Piazza Navona, for example – are within easy strolling distance of the hostel.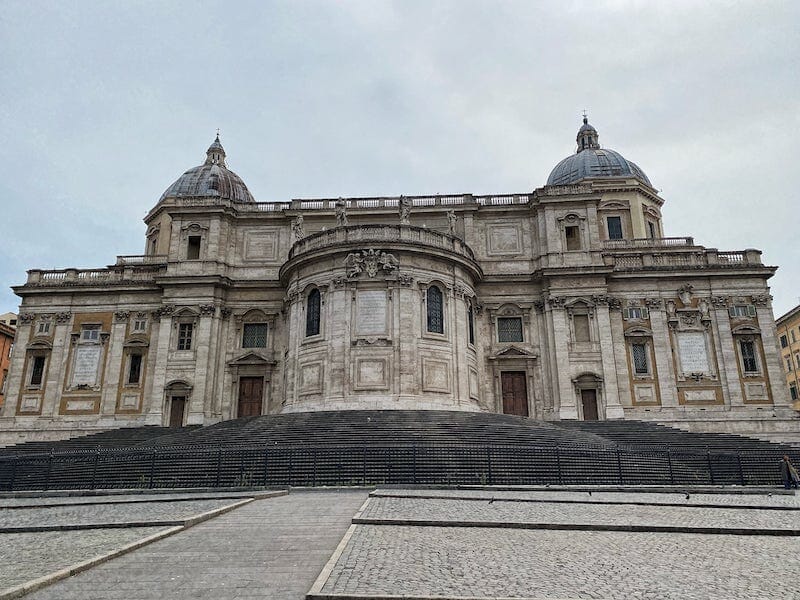 Meininger Roma Termini
Another well loved European hostel chain, striking the balance between hostel and business hotel, Meininger in Rome is located very close to Termini Station and near the University of Rome, too. It's a great location for those who want to make the most of their time in the city.
The hostel is tucked away inside a large historic building, but the interiors are far from old. In fact, they're all very contemporary and cool, making it a comfortable and stylish place to spend time in.
The spacious guest lounge and dining area is a great place to relax, while practical things like laundry make it a one-stop-shop for all your hostel needs. Dorms here are bright and colorful, with funky wall art and sturdy bunk beds. Shared spaces are equally cool, and have been themed on classic movies.
Hotel Lodi
For more in the way of budget accommodation in Rome, look no further than Hotel Lodi. Situated inside an elegant Art Nouveau villa in a charming residential slice of the San Giovanni neighborhood, Hotel Lodi boasts attractive rooms and a good selection of amenities for travelers to make use of.
One of the best things about this hostel is its lush garden; it's overhung with orange trees and features outdoor furniture for kicking back after a day of exploring the town.
Mornings start here with a fresh breakfast, served in the garden or dining room, before heading off to see the sights. Nearby attractions include the Colosseum, the Roman Forum and Porta Maggiore, among other easily walkable spots.
Further Readings
For more guidance on selecting a good place to stay in Rome, you should also read these posts:
Pin It For Later!